Coming soon
9/12 Saturday 10:30
- Embroidery Club, working on t-shirts
9/19 Saturday 10:30
- Serger Club, Vinyl Thread Catcher
Sundays
- 10:00-2:00 Open Sew (1st Sunday of month, 10-4pm, with
Wednesdays
- 10:30-2:30 Open Sew
9/12 Saturday
- BERNINA events
10/31 Saturday
- Husqvarna Viking EPIC Event
All About Curves
2015 Quilt Club


Shining Lights
2015 BOM, $5/month

Piecing in the HOOP
2015 Embroidery Quilt Club
Sunday Sampler

Block of the Month Quilt Clubs
We offer four programs: BOM pick up anytime, Mystery Quilt anytime, Quilt club 2nd Sat., Embroidery Quilt Club 3rd Sat






Metrowest Bostons' authorized Husqvarna Viking, BERNINA, Singer, Necchi & Elna Sewing machine sales and service center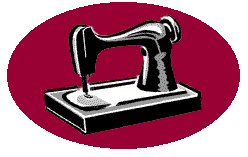 Located on Rt 20 East in Marlborough, MA. Centrally located between Boston, Worcester, Nashua and the Cape.
Classes
Along with our on-going classes and open sew programs we strive to bring a variety of classes to our customers. Visit our class calendar to see, or print, a calendar of all upcoming classes.Place your mouse over a class name in the calendar to see complete details. Use the online registration button or call to reserve your seat in any class.
Clubs
Our monthly clubs are machine oriented (not brand oriented) and give you a chance to play with the many features, techniques and capabilities of your sewing, embroidery and overlock machine with hands-on classes and monthly BOM's.
Special Events
Somestimes we are able to arrange for a national instructor, or manufacturer to make available to our customers new classes or products to try out. These special events are a great way to expand your skills and open yourself up to new ideas and products.
Batiks Abound
2015 Mystery Quilt
12 month program