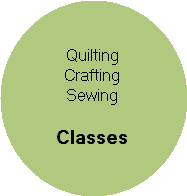 SPECIAL EVENTS


Check out our Special Events page for information on other upcoming events like Kothy Hafersat:
Click here for complete details







Metrowest Bostons' authorized Husqvarna Viking, BERNINA, Singer, Necchi & Elna Sewing machine sales and service center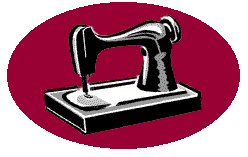 Located on Rt 20 East in Marlborough, MA. Centrally located between Boston, Worcester, Nashua and the Cape.
Free Motion Fun - More Fills with Jill
Swirls and Curls
Free motion fills....a great way to get the basics down and gain comfort on using your machine for free motion sewing. This fun filled class is all about the swirl and the curl. We'll be using a variety of curved fills to add texture to our quilting. We'll be working free hand, no pantographs and no templates, it's all about getting com fortable wi the motion and placement of the designs. Advanced beginner to Intermediate free motion level.

Tuesday Nights 7/14, 8/4, 8/25 6:00 -7:30
Tuition: $75
Kit: $60
Kit includes: Practice quilt sandwich, panel/batting/backing for small quilt, needle & thread
Supply list: bobbin, free motion supreme slider, quilting gloves (machingers recommended), machine extension table (sew steady or machine specific table), water soluble marker (sewline recommended), machine, thread scissors, fabric scissors
Optional supplies: task lamp
Husqvarna Viking Event

Hands-on sewing event with national educator, details coming soon.

Saturday 10/31, Morning session (9-12), Afternoon session (2-5)
Tuition: TBD
Kit includes




Geo Gems Jelly Roll Quilt
A beautiful quilt made from simple jelly rolls. The geometric pattern is sure to please. This three session class will help you work with tonal fabrics, strip piecing, template cutting, and working with non-standard size blocks (rectangles instead of squares).

Class: 7/2, 7/9, 7/16 from 2:00-4:00
Tuition: $50
Kit price based on size of quilt selected.

Supply list: Sewing machine, bobbins, new size 80 universal or quilting needles, seam ripper, rotary cutter, thread scissors, fabric scissor, marking tool (water soluble marker recommended), Perm marker (ex: sharpie), straight pins (quilting type recommended)
Optional supplies: Seam Roller, cutting mat, pressing mat, travel iron
I CAN Sew - Sewing Skills Clinic

This sewing class is a great way to introduce yourself to a wide variety of sewing techniques while creating a book of techniques. It is a great introduction to a wide range of basic sewing techniques and practices. From ironing and pressing to closures and finished hems. The class will let you try your hand at a variety of things, all with one goal in mind....making you more confident in your sewing skills and making you aware of the many different techniques and tools available to get the best results from your sewing machine.

Three clinics to choose from:
Tuesday 8/18, 2:30-6:00
Wednesday 9/16 2:30-6:00
Thursday 7/30, 10:30-2:00

Tuition: $35
Kit: $25
Kit includes: assorted closures (buttons, zippers & more), fabrics, stabilizers
Not all HotDogs are for Eating
HotDog Pillowcases
The HotDog method makes it fast and easy to make a pillowcase with finished seams that provide for a long lasting, machine-washable finished product. This is a quick clcass for a quick project that will have you wondering why you haven't been making pillowcases your whole life. We'll learn the hotdog method, french seams, and how to add decorative treatments to a pillowcase for fun finishes sure to bring a smile to the faces of kids of all ages.
Kit includes fabric for two pillowcases. This is a hands-on class so bring your sewing machine and sewing supplies.

Wednesday 7/11 1:30-3:00pm
Tuition: $20
Kit: $25 (two pillowcases)
BERNINA Event - Embroidery & Quilting Together
with Sylvain Bergeron
Pre-register today, details coming soon

Saturday 9/12, Morning session (9-12), Afternoon session (2-5)
Tuition: TBD
kit included







Summer Sew Camps


We run two camps each summer; each camp is Tuesday-Friday from 10am-5:30pm. July camp is for students 9 years and up, August camp is for 11 and up. All students need a sewing machine and basic sewing supplies. No prior sewing experience is needed but students should know how to thread a machine and wind a bobbin (if your child needs to be taught how to use their machine just contact us and we can help). If you need a machine we offer a package deal that includes the camp fees and a new sewing machine at a greatly reduced rate (while supplies last).

Every morning we start off with a technique clinic and a take-home project. After lunch (bring your own lunch) we will work on our big project for the session. This year we are emphasizing garment work and will be making a ruffled skirt and a spring jacket as our big projects. Each camp is unique with new daily projects and a different big project so students attending both sessions will have something new each day.

2015 July 21-24, 9 and up

2015 August 11-14, 11 and up


Click here for complete details



Sampler Quilt
Fridays 7/10, 7/17, 7/31, 8/7, 3:30pm-5:30pm
The sampler quilt is a great beginner quilting class. It includes an introduction to quilting for the new quilter, and a good way to practice and reinforce good quilting techniques for the intermediate or self-taught quilter.

A sampler quilt is a quilt where every block is different. Each block will introduce you to another technique. The goal is familiarity with the what, why and how of quilting so that you feel ready to attempt your favorite design with accuracy, confidence and the lingo needed to understand a pattern and create the blocks.

This is a 4-session hands on class. You'll be cutting, sewing, pressing and more as you create your sampler quilt top. Watch our calendar for future classes on borders, binding and quilting to continue to grow your quilting skills.

Starts Fridays 7/10, 7/17, 7/31, 8/7 3:30-5:30pm
Tuition: $65 (includes 4 session)
Class kit: actual fabric costs (to be selected as part of the first class)

Supply list: Sewing machine, bobbins, new size 80 universal or quilting needles, seam ripper, rotary cutter, thread scissors, fabric scissor, marking tool (chaco recommended), straight pins (quilting type recommended)
Optional supplies: Seam Roller, cutting mat, pressing mat, travel iron, water soluble marker

Fast, Fun, Machine Applique
Bring your machine and come ready to have some fun as we work on making a wallhanging using some fast and fun applique and embellishment techniques. This fall inspired pattern will be perfect on your door or as a table topper. This is created with fusible applique. The quilt is embellished with a myriad of yo-yos in bright fall colors as well as many other 3-dimensional accents to add extra interest and rich texture. Finished Size: 24" x 32".

Saturday 8/22, 10-3pm, 1 day workshop
Tuition $35
Kit additional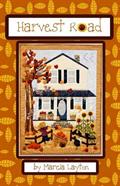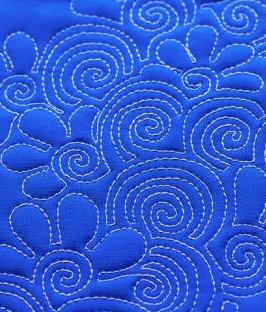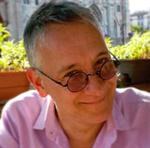 Japanese Jigsaw Quilt

A complex look with a trick up its' sleeve. This quilt highlights the beautty of tonal fabrics and batiks with a beautiful japanese flare. Learn how to to mix and match your colors for stunning results.

3-session class
Thursdays 9/17, 9/24, 10/1 3:30-5:30

Tuition: $45
Kit cost additional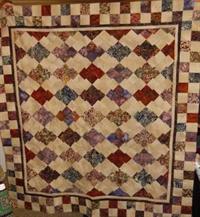 After School Student Sew

For students 9 years and up. This open sew program is designed to motivate young sew-ers and to teach them good sewing skills and techniques by giving them the opportunity to work on projects of their choosing. Each student works at their own rate and skill level. The teacher will help them harness the power of their sewing machine and build their tool chest of techniques.

After School Sew is Tuesday from 4:00-6:00
Each session is 1-month long
Tuition: $65/month
The TESSA Quilt
Hexagons made simple. Create this quilt using a special strip piecing technique and a simple half hex template. Stunning results in a fraction of the time it would take to custom create this quilt using Y-Seams and hexagons.

3-session class
Fridays 10/9, 10/16, 10/23 3:00-5:30

Tuition: $45
Kit cost additional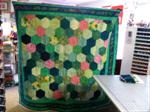 Cutting for Crafting and Quilting
Electric cutters offer today's crafters and quilters a wide range of features and service to make crafting more fun. We'll see what it takes to cut out a three dimensional box. Learn how to stabilize fabric for quick cutting of complex applique pieces. We will demonstrate on the Artistic Edge cutter and Artistic Software.

Friday 8/21, 3:00-6:00
Tuition: $10
Bring your own paper and fabric supplies or purchase what you need here. If you don't have a cutter, we will have one you can use but you will need a cutting mat and cutting blades (available for sale here).