Husqvarna Viking Sewing Machines
It started over 300 years ago. In 1689, the King of Sweden built a weapon factory beside the mighty waterfalls in Huskvarna. In 1872, some of the artisans working there switched from crafting firearms to making a peaceful precision product - sewing machines. The rest is history. Known for their easy to use interfaces and ample sewing space, these beautiful machines are worth checking out.
Test drive a Husqvarna Viking and see what all the fuse is about.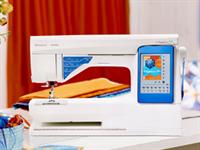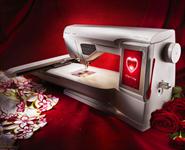 Sapphire Series
10" from needle to inside neck make this the perfect machine for anyone looking for lots of space to work in. Automatic pressor foot system senses the fabric and adjusts automatically. Sewing at its best.

Desiger Series
From the Topaz & Ruby to the Diamond you have a many gems to choose from for your sewing and embroidery needs. With large 10" necks and color touch screens, sewing and embroidery was never this easy.

Opal Series
With the exclusive SEWING ADVISOR® providing expert guidance, a large 200mm sewing space, touch screen, plenty of programming possibilities and memories the HUSQVARNA VIKING® OPAL™ lets you go from good - to great